Master Builders Association
High-Visibility Integrated Campaign
Generating attention and sign-ups
Offering quality health benefits is key to hiring and retaining great employees in the building trades. However, research showed that small and medium employers often believe they're priced out of providing top-quality health insurance.
The nation's largest local homebuilder's association, The Master Builders Association of King and Snohomish Counties (MBAKS), needed Hey to help share how they offer their members a choice of more than 30 plans from Regence BlueShield at affordable prices.
We threw on hardhats and went to work on a campaign that would drive leads from a very specific B2B audience and dispel the "unaffordable" misperception among health plan decision makers.
Magazine cover ad

Magazine cover ad

Inside full-page ad

Magazine cover ad
Our neon colored "high-vis" creative commanded the attention of these employers, delivering our value proposition with a relevant and recognizable visual solution. Using MBAKS' CRM data, and MNI data we identified addresses of prospects and delivered to their offices free issues of Men's Health Magazine wrapped in our distinct and memorable creative.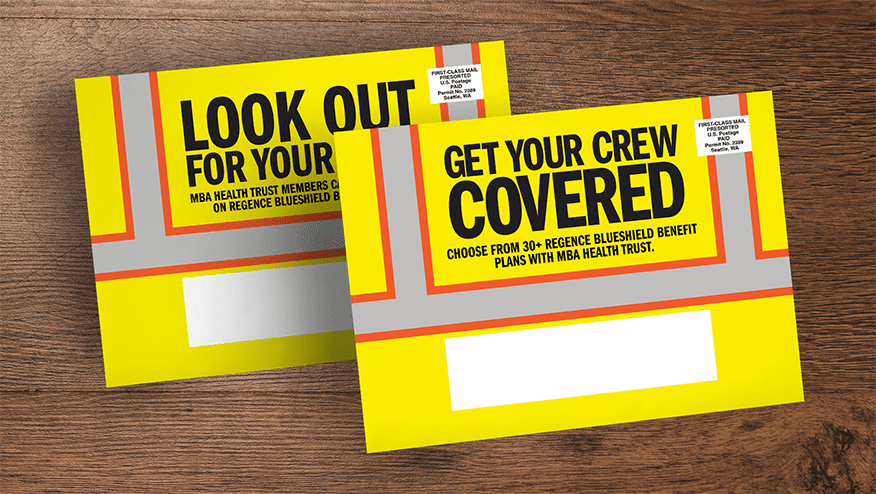 Magazine ads and postcards
 LinkedIn and Facebook conversion tactics used CRM data and look-a-like targeting to drive audiences to fill out a form or make a phone call. LinkedIn Lead Gen placements drove even more qualified leads without ever taking audiences out of social media.
Animated GIFs posted to social media helped drive further traffic
The campaign was a success—engaging owners and decision makers in the construction industry.
Hey showed up and got the job done.
43%
INCREASE IN
CLICKS YOY
91%
INCREASE IN FORM
FILLS & CALLS YOY
64%
DECREASE IN
COST/LEAD YOY