What is a Sales Funnel? | Build an Evergreen Sales Funnel (2023) 
Customer funnels, conversion funnels, marketing funnels. What is a sales funnel, and how do they help businesses thrive with minimal effort?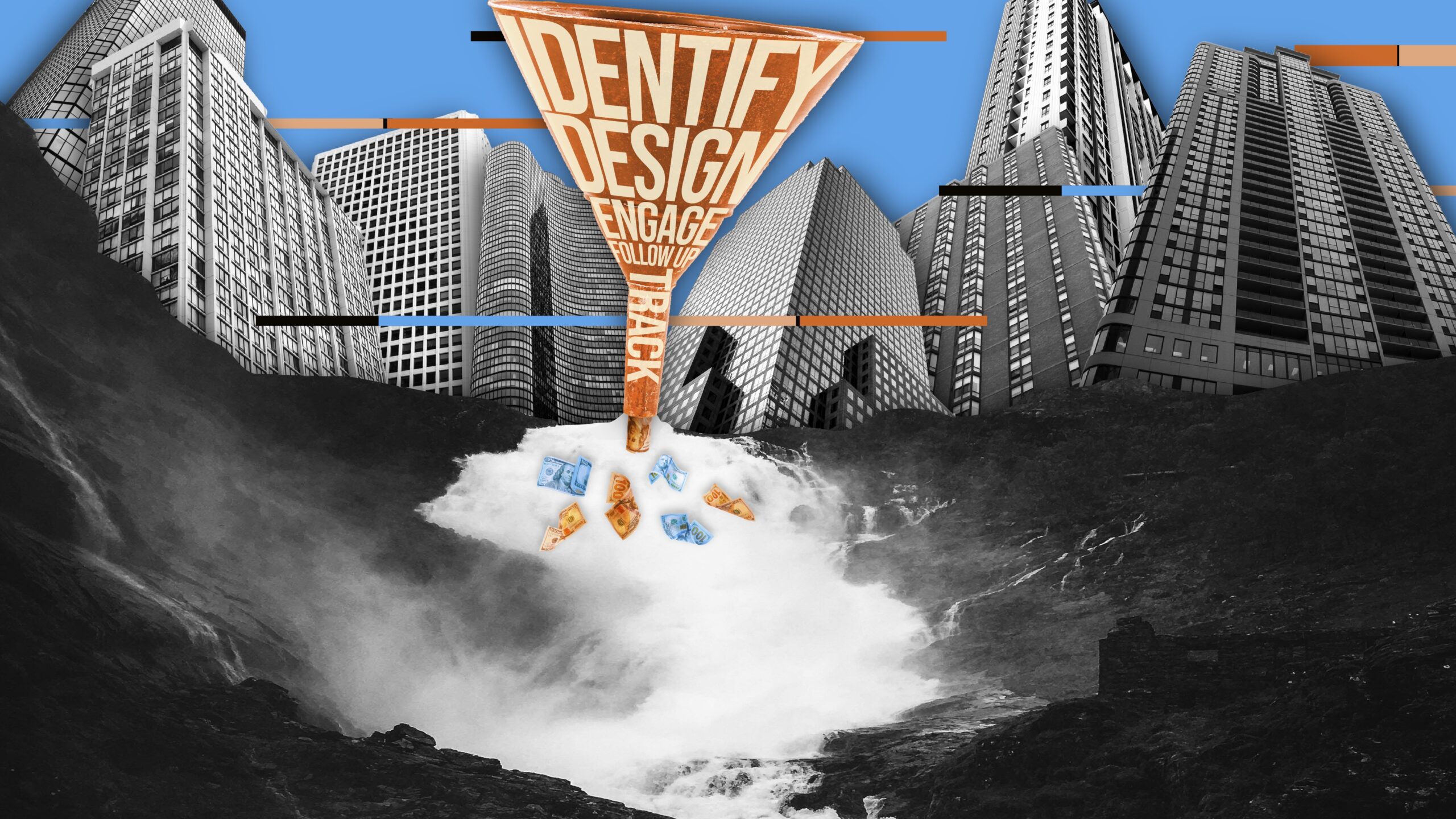 They go by many names, but they all have one purpose: to help you generate leads and convert them into paying customers. 
Exceptionally crafted evergreen sales funnels put conversions on cruise control all year long, sending leads gushing through your pipeline with engaging user journeys and irresistibly juicy offers.
So if you're looking for a surefire, hands-off way to keep your sales funnel full of leads, you'll want to read this guide from top to bottom. We have the definitive playbook for building outrageously simple yet effective evergreen sales funnels.
The Basics: What is a Sales Funnel? 
A sales funnel is a customer journey that attracts and guides qualified prospects to the ultimate decision: purchasing your services or products. It's the "road" users follow to find the solutions you offer to their problems, providing a clear path that leads customers directly to the checkout page.
There are four primary sales funnel stages to building a complete pipeline: 
Stage 1: Awareness
Your potential customer is made aware of your brand and products. For example, they might perform a search for a problem they're facing, stumbling upon a Google ad or blog post guide that leads to your website.
Stage 2: Interest
At this stage, prospects are interested in your brand and are actively researching solutions to their problems. Therefore, understanding your audience's needs, desires, and fears is essential at this stage.
Stage 3: Desire
The prospect has now connected with your product or service, seeing it as the solution to their problem. You can nurture this desire with targeted content that speaks directly to the most urgent, pressing issues keeping each customer persona up at night.
Stage 4: Action
The customer takes the desired action and makes a purchase. By this point, they have already developed a relationship with your brand and can quickly become loyal customers. You can further solidify that relationship by offering support, discounts, and promotions.
The Beauty of Evergreen Sales Funnels
The endless social media content, blog posts, and back-and-forth emails with prospects are enough to keep entire sales and marketing departments busy all day long. 
An evergreen sales funnel solves this problem by automating the lead-generation process—it takes the tedious task of nurturing leads off your hands and frees up valuable resources for other areas of your business. 
How Does an Evergreen Sales Funnel Work?
In a nutshell: An evergreen sales funnel starts with casting a carefully targeted net that captures web traffic. Once users are hooked in and their interest piqued, the automated nurturing process begins. 
Through a series of perfectly timed, expertly crafted emails, users eventually see that they can't go on without your services or products and decide to become customers.
The components of a successful evergreen sales funnel include:
A landing page is where potential customers first enter your sales funnel, and it should be irresistibly engaging at all costs. We're talking stunning graphics and videos and exceptional copy leading to a strong CTA encouraging visitors to take the next step. 
To get leads into your funnel in the first place, you'll need to offer something of value in exchange for their contact information. This could be an ebook, webinar, or any other type of content that your target market would find valuable.
Once you have leads in your funnel, nurture them with relevant content and recommendations based on what you know about their audience segment and where they are in the sales funnel. Examples include a free trial offer, discounted product or service, or any other value-added offering.
An automated follow-up sequence is essential for nurturing leads and converting them into paying customers. Use email marketing to send out relevant emails based on where prospects are in your sales funnel and track their engagement to determine the best time to send an offer.
The dream for most businesses is to build an automated evergreen sales funnel that will consistently attract leads, nurture them with relevant content and offers, and ultimately convert them into paying customers. 
Admittedly, a lot of strategic and creative thought work goes into building a sturdy evergreen sales funnel on the front end—but once the groundwork is finished, all that hard work pays off.
How to Build An Evergreen Sales Funnel in 5 Easy Steps
To build an effective sales funnel, you need to understand the customer journey and create content that speaks to each stage of that journey. You must also understand marketing channels and which work best for driving conversions, depending on the target audience.
Step 1: Identify Your Ideal Customer 
The first and most crucial step in creating an evergreen sales funnel is identifying your ideal customer. Who are they? What do they need? Where do they go for information? 
Answering these questions will help you determine the best ways to reach them, as well as the content and offers that will resonate with them.
Step 2: Design a Strategic Landing Page 
Your landing page should be attractive and engaging, speaking to their inner fears and desires. Strong creative is vital here—so don't skimp on the enticing graphics, compelling copy, and share-worthy content. 
Keep your messaging consistent and concise, eventually leading users to ONE singular call to action.
Step 3: Create a Lead Magnet That's Too Good to Pass Up 
The goal of your lead magnet is to offer something so juicy and valuable visitors can't help but exchange their contact information to receive it. 
Therefore, you should ensure the content you're offering is relevant to your target market and engaging enough for them to want more information from you.
Step 4: Develop a Follow-Up Sequence 
An automated email sequence allows you to nurture leads, track engagement, and determine the best time to send an offer. 
Provide relevant content and offers based on where your user is in the sales funnel. This could be a free trial offer, discounted product or service, or any other type of value-added offering.
Step 5: Track Performance
Perhaps the most neglected step of the evergreen sales funnel design process is tracking performance. By taking the time to analyze your results, you to make tweaks and updates to optimize the funnel over time. 
Create a system of monitoring and analyzing performance data to identify what works and what needs improvement, allowing you to continue optimizing as needed. (If this isn't your wheelhouse, consider letting a professional help you track KPIs instead!)
B2B Sales Funnel vs. B2C Sales Funnel: What's the Difference? 
While the principles of successful sales funnels are essentially the same regardless of the target audience, there are some differences between B2B and B2C sales funnels.
B2B sales funnels typically require more nurturing than B2C ones, often involving multiple decision-makers or more complex pricing models. 
Don't be afraid to lean into A.I. to help you manage all the data that goes into managing these intricate sales sequences—one 2020 study suggests using A.I. to keep your sales funnel operating smoothly can bring exceptional value to the entire customer experience. 
On the other hand, B2C funnels are usually more straightforward, with fewer steps in a single user's journey and much smaller purchases, and customers can move through the funnel much faster.
Sales Funnel Management Tips 
No matter what type of evergreen sales funnel you're creating, here are some essential tips to keep in mind during the process:
Start with a goal and then work backward.

What do you want to achieve? How will you track progress? What content and offers will help move leads through the funnel?

Keep testing.

A/B testing is essential for understanding what works and what doesn't—the more data you have, the better.

Make sure your content is engaging and relevant.

Content should be tailored to each stage of the funnel as much as possible, as well as to specific target audiences if necessary.

Keep track of customer feedback.

Regularly collect and analyze customer feedback to ensure your funnel is relevant and engaging.

Optimize your follow-up sequences.

While automation can save you time, it's ultimately up to you to check that all the emails in a sequence are tailored, relevant, and high-converting.
Common Sales Funnel Challenges and How to Overcome Them 
You'll inevitably face some challenges when designing an evergreen sales funnel. Here are some common ones and tips for how to overcome them:
Not enough traffic. If you don't have enough people entering your funnel, try optimizing your SEO, running paid campaigns, or engaging in influencer marketing. 
Poor content.

If your content isn't resonating with your target audience, try making it more personalized, relevant, and engaging.

Not taking advantage of automation.

Automation can help save time and effort when managing a sales funnel. Take advantage of the latest automation tools to make your job easier. 

Not tracking performance.

Without data, it's impossible to understand where your funnel is lacking or what needs improvement. Make sure you are regularly collecting and analyzing data so you can optimize the funnel over time.
Who Should Use an Evergreen Sales Funnel?
An evergreen sales funnel can be an excellent tool for any business, from B2B to B2C. However, it is beneficial for businesses that need to continually generate leads and nurture them over time to keep the sales funnel full. 
Creating an evergreen system ensures that your pipeline remains consistent and new leads are continuously entering and moving through the funnel.
Where Do You Start With Building Your Sales Funnel? 
If you're currently running multiple campaigns, marketing attribution models are an excellent way help measure which channels would produce the most value for a new sales funnel. An attribution model offers a way to assign credit to one or more marketing actions for any given conversion. 
Continue reading about using attribution models to create more effective marketing funnels here. 
Could You Use a Thought Partner On Building Effective Sales Funnels?
Whether you're building a sales funnel from scratch or looking to optimize an existing one, having a team of professional strategists and creatives to help you execute can be invaluable. 
Working with Hey can help you create engaging content, optimize your funnel for maximum efficiency, and track performance data to continue improving it over time. Start flooding your pipeline with hot new leads all year long—let's start a conversation.