Managing Your Generative AI Anxieties In A Productive Way
AI anxiety got you down? Here are some tips to help you learn how to deal with AI anxiety and put the robots to work for you…before they take over the world.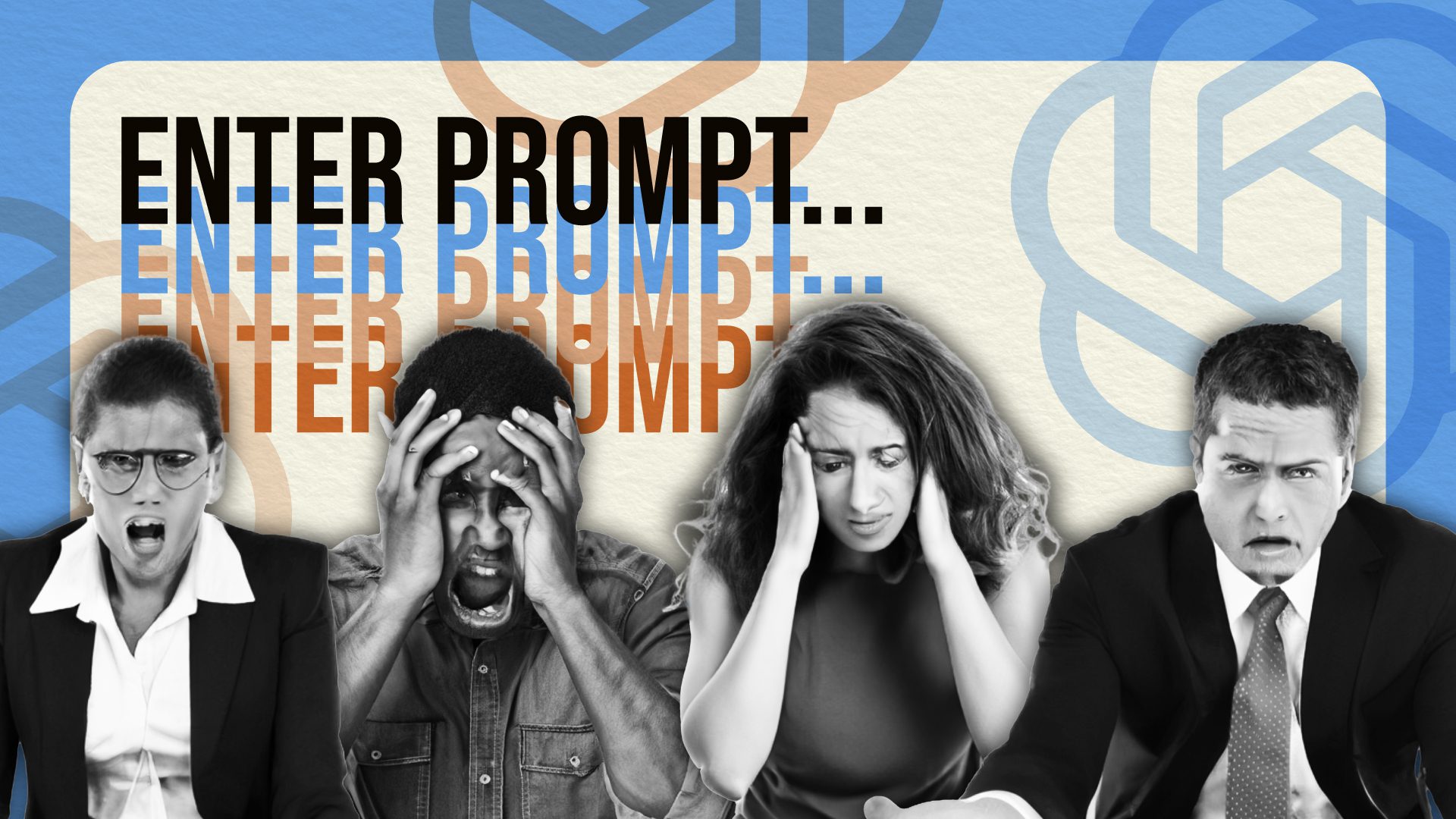 As I'm dipping a toe into ChatGPT, the general buzz around AI seems more fatalistic than affirming: The reason for AI anxiety is simple: it's going to replace many jobs. There's a 100% chance that bad regimes will weaponize it, and experts surveyed say there's a 10% chance that AI poses existential risks to humanity.
Of course, these predictions are worrisome.
But, as an advertising copywriter, my big concern is: If I use ChatGPT to help write ads, will I need to credit it in my Cannes Award entries?
Whatever the future holds, it's inevitable that change is coming to a creative department near you, so I've been experimenting with it in my writing workflow.
How To Deal With AI Anxiety: Make AI Work For You 
Rather than shunning it, why not take advantage of it? Because it's clearly taking advantage of me.
We human users are how it gets better. The more we use it, the more it learns and the more powerful it becomes, fracking the depths of human creativity.
Use AI as a digital assistant. 
Aside from my ambivalence about my creative cells being liposuctioned out of me, I'll admit ChatGPT could be a handy digital assistant—albeit a digital assistant who happens to be a pathological liar.
For example, every so often ChatGPT's responses include information I know to be untrue, what OpenAI engineers refer to as "hallucinations."
When the app makes one of these mistakes and I confront it, it always responds with the same cringy reply that goes something like: "You are correct! I do apologize for my mistake! Elvis was indeed not married to Michael Jackson."
So, while not perfectly reliable as a fact-bot, there's something in the "chat" part of ChatGPT that, as a writer and idea person, I find worthwhile if I can get past its little personality disorders and threat to humanity.
Use AI to brainstorm your next big idea.
Starting a conversation with the app has proven to be a pretty good way to formulate, frame and shake ideas loose, getting out of my own head, and what's bouncing around in there.
For me, ChatGPT might serve as a sounding board, a devil's advocate, a poor man's writing partner. And good writing partners help make raw ideas less raw and spark new ones.
Here's an example. I started a conversation with ChatGPT, asking if it thought that people will be interested in a new product I'm currently working on, digital license plates.
It responded with the boilerplate: "As an AI language model, I don't have personal opinions or beliefs, but I can provide information based on current trends …"
Then it continued, and what it provided was a decent thought starter. It speculated that the market audience for the product would be early adopters and tech-savvy consumers.
Use AI to get ideas for headlines…then edit them. 
So then, I asked it to write some headlines specifically for those audiences. Were they good enough to simply copy and paste into the client presentation? No, but they were a start. The lines were basic, rational value propositions.
This is what the app came up with:
"Upgrade Your Ride: Get the latest Digital License Plate Technology!"

"Make Your Car Smarter: Install a Digital License Plate Now!"

"Experience the Power of Digital License Plates: Order Yours Today!"

"Stay Connected On the Go: Upgrade to a Digital License Plate!"

"Unlock the Full Potential of Your Car: Get a Digital License Plate!"
It's not all that surprising that the app didn't deliver anything but straight over-the-plate propositions, lacking brand voice or attitude.
It also did not factor in the play between the visual and headline, where the visual does the heavy lifting, making it unnecessary to say "digital license plate" in the headline, when we can see a real digital license plate in the ad.
Here are a few variations with the human spin, factoring in the visual of a digital license plate:
Upgrade your street appeal. Go digital.

A smart plate for your smart ride.

Power to the plate.

The connected plate for the well-connected.

Unlock your ride's tech side.
Infuse your own humor, brand voice, and common sense. 
While ChatGPT's headlines hit on some rational benefits, they lacked the dimension of humor, a sly wink and a more memorable way of putting it. They also could not account for how to let the visual element do the hard work so that the words could be used more sparingly to close the loop of understanding and give the reader a little reward, a jolt, for reading the ad.
I have no doubt that generative AI will eventually be able to deliver lines that are more engaging and brand ownable, but for now, it seems human creativity is needed to deliver brand-worthy copy content.
Quell Your AI Anxieties (For Now): Humans Still Know Best
There will always be multiple variables to consider, such as diverse audiences and current events, not to mention multiple client decision-makers. And let's face it, humans know what humans want in ways an app never will.
I hope as AI tools are incorporated into our workflows that our standards for effectiveness and likeability will go up, not down. Because nobody wants to have to suffer through synthetic, boring copy pieced together by an algorithm designed to learn from, and plagiarize, your original thoughts.