Create the Ultimate Customer Experience Map in 4 Steps
Get to know how users experience your brand with customer experience mapping. Learn what questions you should be asking, and get the info you need.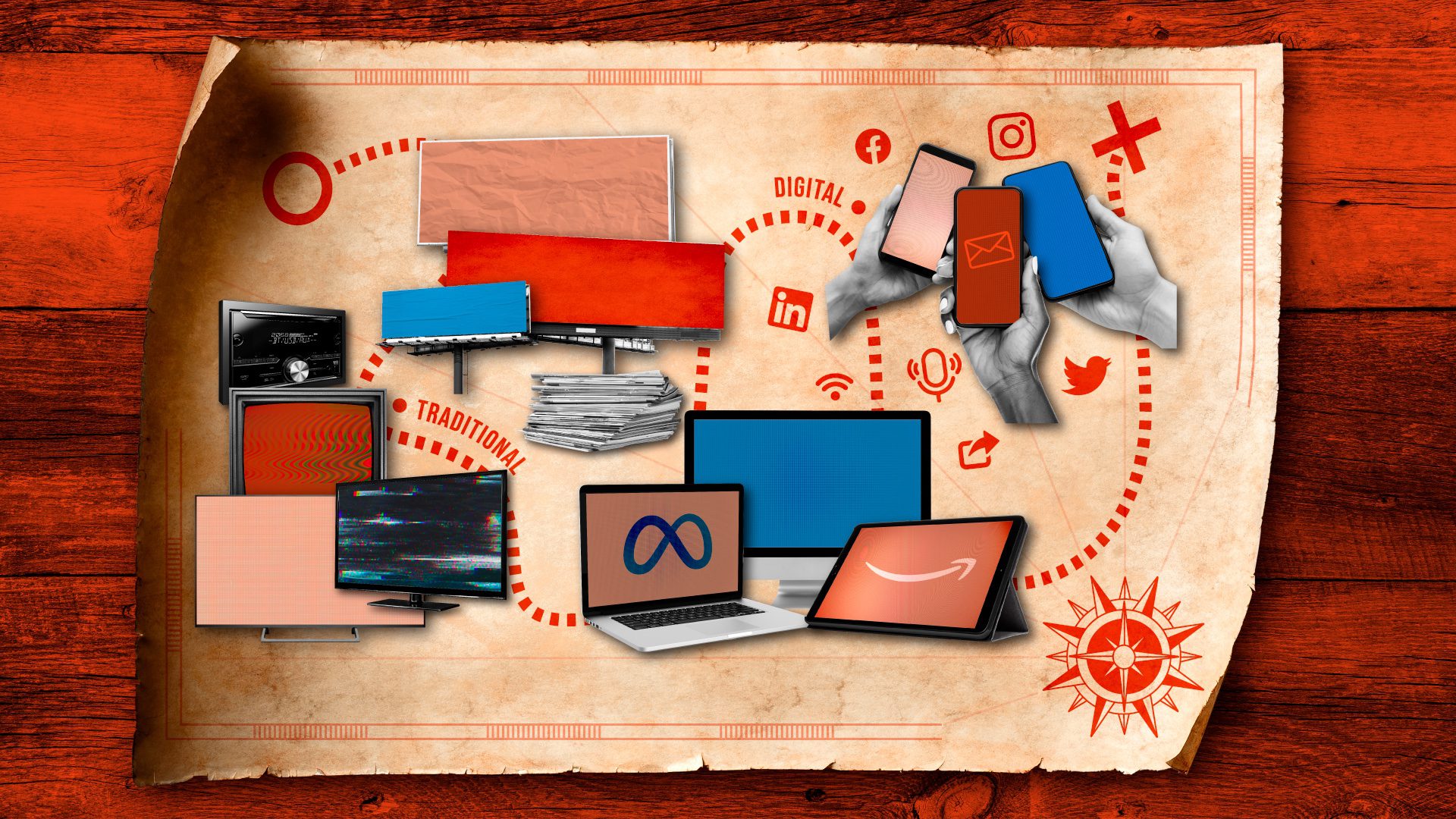 Customer experience maps (sometimes called customer journey mapping) are the bread and butter of any successful marketing team's toolkit. When done right, they can provide valuable insights into how customers interact with a product or service—from initial contact to purchase, use, and even beyond.
In this blog post, we'll walk through all the steps necessary for top-notch omnichannel customer journey mapping.
What is customer experience mapping? 
Technology has turned many industries on their heads, perhaps none more so than the marketing industry. As consumers interact with brands and experience them in entirely different ways, marketing teams have many more choices—more decisions to make and a deeper understanding of who our customer persona is at any given moment. All of this adds up to complexity.
Enter customer experience mapping, a visual representation that allows you to record, plot, and analyze the interactions – or "customer touchpoints" – that a customer has with your organization. It covers every interaction from initial contact to post-sale follow-up and can pinpoint problems or build on successes in your user experiences to improve customer retention.
Customer experience mapping benefits
Enjoy a competitive advantage. 
You can bet your competition is using customer experience mapping; you need to be able to match and surpass their efforts if you're going to stay ahead. Designing strong customer personas and understanding customer expectations are critical factors in any business success story.
Reduce customer churn. 
No one likes unhappy customers, but making sure they stay happy is sometimes easier said than done. By mapping out customer interactions and experiences, you can identify areas for improvement, reduce customer churn, and increase customer loyalty by ensuring customers get what they need quickly and easily.
Improve customer satisfaction. 
Making your customer base feel valued is essential for any positive customer experience, no matter its size or industry. With well-crafted customer journey maps, you can guarantee your customer service is up to snuff and that customers get a consistently positive experience with your brand.
Align cross-functional teams. 
A customer experience map is a great way to get everyone on the same page. It offers a comprehensive view of how customers interact with your company and helps align everyone from sales reps to your sales team around common goals and objectives.
Clarify key areas of ownership.
What are your handoff points? Who is responsible for each step of the customer journey? With a well-crafted map in place, you can easily identify who owns what and confirm there are no gaps in the process.
Customer Experience Mapping In Action
Customer experience mapping, or customer journey maps, help businesses understand how their customers "experience" their brand. It can shine a light on pain points and behavioral insights, offering you a perspective of how things work from the customer's point of view.
Consider the journey of a pizza customer:
Awareness

– A potential customer notices a pizza advertisement for Pedro's Pizzeria while

scrolling Instagram

at work. It's not quite lunchtime, so they don't decide to order right at that moment. That pizza ad sure did look tasty, though, so they keep cheesy pepperoni in mind for later.

Research & Consideration

– FINALLY, it's almost time for lunch. The same customer decides to search pizzerias near the office and sees another ad for Pedro's Pizza, and, remembering the ooey-gooey goodness they saw earlier, they decide to click and explore the menu. Along the way, the customer has a quick question about toppings and clicks the chat feature in the corner to get answers quickly.

Purchase Decision

– They can't resist anymore—the customer is entranced by the promise of Pedro's and locks in their order.

Post-Purchase

– The customer watches the progress bar while waiting for their order to be delivered. Once the delivery is complete, they spend a few minutes rating Pedro's and leave a glowing review of their experience.
Did things go seamlessly? Was there any point where the customer was confused, frustrated, or unsure of what to do next? Pedro's Pizzeria could create a customer experience map to find out more.
How To Craft a Customer Experience Map: Step by Step
Step #1 – Lay out the stages of your customer experience map. 
We begin by identifying the stages our consumer goes through in the process of purchasing a product, from getting to know the product in the first place all the way through to purchasing and repurchasing. 
This is very similar to how we always thought about the purchase funnel, only now we're tailoring the stages to concepts unique to the product we're planning for.
Step 2 – Identify the touchpoints for each stage. 
Now we start looking at how our customer interacts with us and where they might encounter any friction or confusion, from emails to web pages to physical locations. As you go through this process, try and think beyond digital media – many of the best customer experience strategies focus on physical touchpoints as well.
Step #3 – Determine your customer's thoughts and feelings at each stage. 
With the Stages identified and laid out horizontally across the map, we plot the course, developing insights about what our buyer is experiencing in each stage to help us figure out tactics and messaging strategies. 
We consider emotional and rational needs and all of the ways the consumer might engage with the brand across each stage (advertising, shopping, mobile shopping, waiting, etc.).
Understanding the psychological underpinnings of each stage is critical in crafting an effective experience map. Therefore, we utilize tools like Maslow's Hierarchy, psychographics, and personas to capture what our customers might feel during each stage.
Step #4 – Applying what you learn from your customer experience map 
Take a look at the overall journey, stage by stage, and identify specific areas where the customer may experience confusion or friction. Are there important unanswered questions? What information should be provided in each step?
For instance, after the credit card is entered and the "purchase" button is hit, the waiting begins. "Will it fit?", "Is it going to be the right color?" You may realize something as simple as an email communication during that "Waiting" stage could answer those questions and positively impact the overall experience.
Key Points To Explore For Strong Customer Experience Maps 
While your customer journey map could encompass an entire journey or simply one small part of one, there are a few creative benchmarks in the user journey you should analyze for success:
Discoverability

– keyword searches, ad impressions

Click-worthiness

– click-through rates, landing page views

Irresistibly Engaging

– case studies, ebooks, blogs

Point of purchase

– promotions, special offers, sales pages

Post-purchase

– thank you page, order tracking, feedback
Customer Experience Map FAQs 
What tools can I use to create a customer experience map?
There are many tools available to help you create a customer experience map. Many of them provide templates and offer features such as drag-and-drop functionality to quickly build an interactive map with visuals and data. Some popular software packages include Miro, and Microsoft Visio.
What types of data should I include in my customer experience map?
The data you include in your customer experience map will depend on the type of business you have, but some common metrics to consider are click-through rates, landing page views, case studies, ebooks, blog posts, and feedback from customers. Additionally, you can use data from surveys, customer interviews, social media posts, and website analytics to gain further insights into your customers' journey.
How often should I review my customer experience map?
Review your customer experience map regularly to confirm that it is up-to-date and remains useful to your business. As customer behavior and preferences evolve, your map should be updated accordingly. Additionally, you should review your maps after making changes to ensure they align with customer needs and expectations.
Final Thoughts
If you follow our company on LinkedIn or read our blog, you've probably seen something about mapping the customer experience across their engagement with a brand. "Experience Mapping" is part of the strategic process we developed to help us get to ideas that work in today's technology-fueled marketing ecosystem.
If you're looking for a thought partner to create an experience map for your brand, our team of strategists and creative strategists are ready to help. So contact us today, and let's start mapping out your future success.